So today I am blogging about online shopping~! Love it~! It may be my sweetest downfall. There are two sites I have recently found out about this year that I am in love with.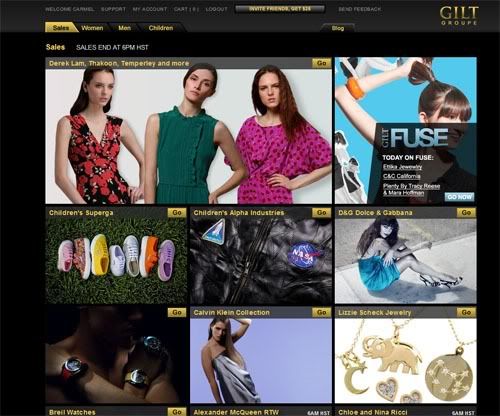 Gilt.com
and
Hautelook.com
(*pronounced oat-look, i used to say hot-look ;-) need to brush up on my french!)
Each site offers extremely discounted designer wear, fragrance, watches, jewelry, shoes, housewares, shoes, children's clothing, etc.. The sales typically last about 36 hours. Gilt sales start at 9:00pm EST and Hautelook sales start at 8:00am PST.
I bought two bridesmaid dresses from Hautelook.com but unfortunately had to return one because of the color mismatch.
These sites are great because there are always HUGE SALEs~! Unfortunately these sites are also widely known (even though you may feel as if you are exclusively shopping from your home!) Many times you can log on a hour or two after a sale has started and find "sold out" signs blazing across the screen~!
Here's an overview of the two websites.
Hautelook:
PROS
-Starts at 8am when I wake up so I can check it out first thing in the morning.
-Lots of dress sales in all styles and lengths~!
CONS
-Shipping can take up to 3 weeks~! It's really hit or miss.
-Sometimes there are only a couple sales going on.
-Returns for store credit only.
Gilt groupe:
PROS
-Lots of top name designers
-Variety of sales going on at the same time.
-Search by style choice and size.
CONS
-More $$$ expensive than Hautelook
-Sales start at the end of the day (9pm.)