One of the details I wanted to work on for the reception was the Bride & Groom place cards. I used left over silver card stock from the invitations and purchased another 149 swarovski crystal rhinestones for our letters.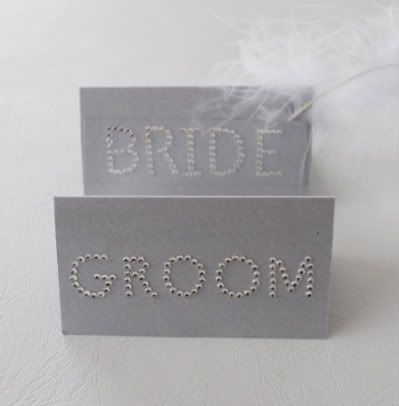 I used a boning tool to create a clean crease to "tent" the cards. Very very handy in cardmaking of any kind! To create clean neat letters I used a printed template and lightly traced over the letters with a blunt pencil. This created a slight indent in the paper which I filled lightly with elmer's glue and placed the crystals. I used a ruler to line up the edges of the straight letters (i.e. R, M, B, I D, E)
I used a single feather plume for the Bride placecard. I cut out the Bride and glued it onto another card with spray adhesive, tucking the feather behind. Viola!