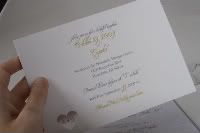 I designed my own invitations a few months before the wedding and enjoyed it immensely! I drew designs on scrap paper and made a few samples with materials from the paper and craft stores. In the end I feel in love with a silver and yellow scheme. The silver and cream were quite strong with accents of poppy canary yellow. The silver and cream looked classy, with some glitz to it. I used silver card stock, celeste card stock, white flecked paper and clear matte paper. I used white envelopes with silver calligraphy for the addresses and our own photostamps.
A silver wire ribbon wrapped the invitation with a little bow accenting the left side.

The silver card opened up with the celeste white cardstock used as a RSVP card. I used spray adhesive to attach the clear matte paper onto the backing with the RSVP information. The heart was transparent. Beneath the RSVP card, slotted into the silver card was the invitation. I used a dark grey text to soften the script on the paper. A bit of yellow in the swirls. There were two hearts cut out of the invitation and the RSVP card and lined up when put together.


A sparkling swarvoski white crystal accent in between handwritten silver intials.

How long did it take to make my invitations. If it was done back to back.. 2 days!